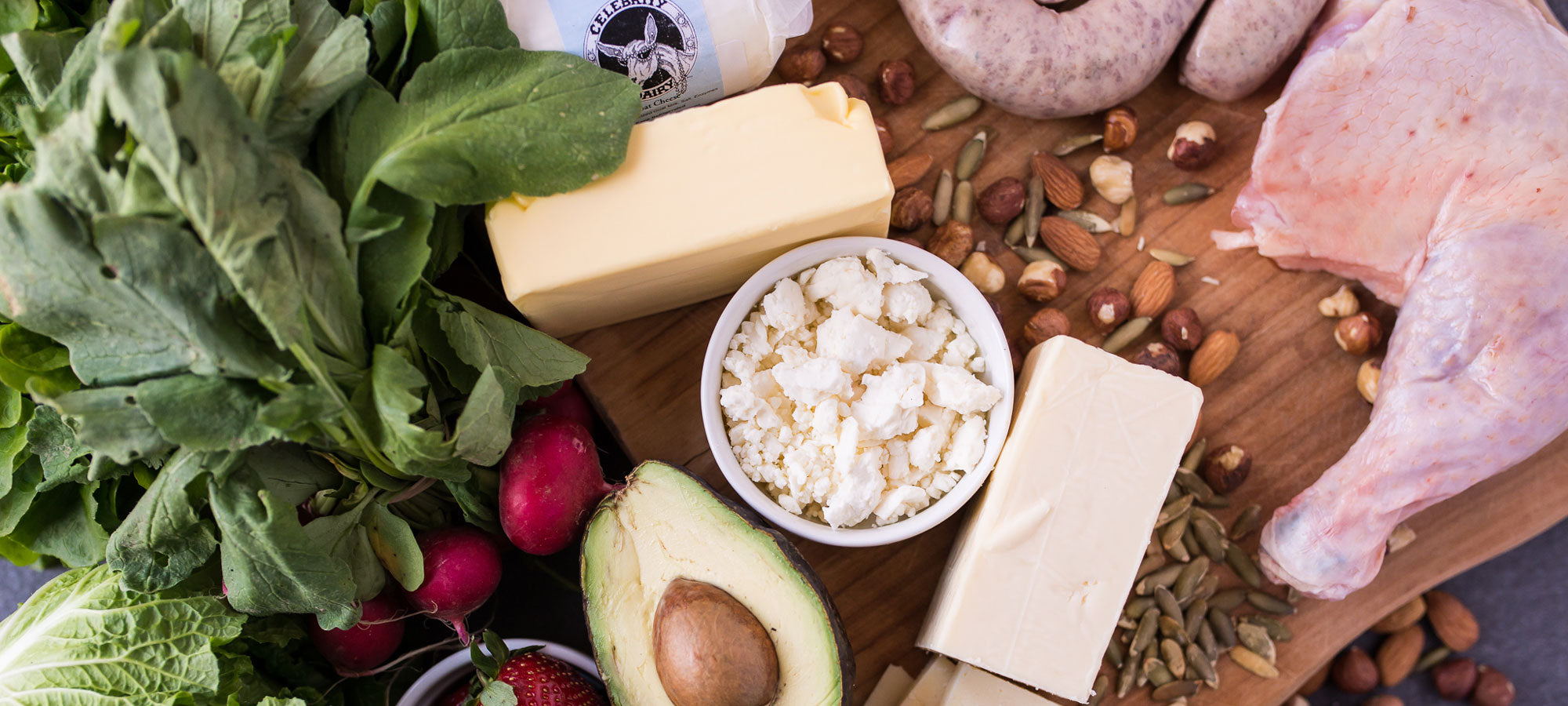 Get ready to experience the fat-torching benefits of a ketogenic diet. This list will help you get started! 
The easiest way to grocery shop for healthy foods is usually to hit the perimeter of the store. The bulk of what you'll need – fruit, vegetables, meat, dairy, etc. – can be found around the perimeter. As you wrap your way around the aisles, you can pop in and grab some of the extra goodies you might also want, like dark chocolate, nuts, and coconut water. The keto diet is extremely flexible in terms of what you CAN eat, so take this list with you next time you shop for groceries.
Fats
Considering fat is going to make up roughly 75% of your diet, it's going to play an important role in your keto shopping list. You're going to want to bulk up on fats including:
Avocados
Olive oil, coconut oil, macadamia oil, red palm oil
Butter, coconut butter, clarified butter, cocoa butter
Lard, tallow, palm shortening
Meat
Carnivores unite! Even though your protein intake may be lower than you're used to, you'll still want to pick up some meat. Feel free to experiment with meats you've never had and expand your palate. Pick from this list:
Bacon, pork, pork rinds, boar
Beef, beef jerky, sausage, salami, prosciutto, hot dogs, veal
Chicken, duck, turkey, eggs
Elk, bison, venison
Seafood
Expanding your proteins beyond the array of meats listed is a more sustainable way to eat, exposes you to new tastes and nutrients, and also keeps you out of the rut of boring dieting. Fish tacos, panko-crusted cod, and seared tuna steaks are just some examples of meals you can make to expand your palate. Pick from this list:
Anchovies, caviar, canned tuna
Lobster, shrimp, mussels, scallops, oysters, crab
Salmon, trout, cod, halibut, mahi-mahi, sole, bass, grouper, flounder, squid
Vegetables and Fruit
If fat is your best friend for a keto diet, then fruit and fresh veggies are a runner-up on your keto shopping list. We don't need to remind you how important fruits and vegetables are for you, but keep in mind how diverse and robust the flavors are, and how versatile some of these ingredients can be.
Arugula, spinach, kale, lettuce, cabbage
Onions, garlic, chives, shallots
Zucchini, eggplant, spaghetti squash
Lemons, limes, raspberries, blackberries, cranberries, strawberries
Artichoke, asparagus, bok choy, broccoli
Jicama, cucumber, leeks, radicchio
Peppers
Dairy
Dairy is another way you can sustainably boost your protein intake at a relatively low cost, while also diversifying your menu. Always buy the full-fat version. 
Butter
Heavy cream, cream cheese, sour cream
Cheese, cottage cheese, yogurt
Beverages
Hydrate and replenish with more than just water. Throw some of these beverage options in your cart:
Almond milk, coconut milk, cashew milk
Club soda, tea, coffee
Chicken/beef stock
Nuts and Seeds
Loaded with fiber, protein, and healthy fat, nuts and seeds keep you feeling full while also delivering a powerful energy boost throughout the day. Add these to your keto diet shopping list:
Almonds, walnuts, pecans, cashews, peanuts, pistachios, hazelnuts
Pumpkin seeds, sunflower seeds
Chia seeds, flax seeds, sesame seeds, pine nuts
Cooking and Baking Extras
Add these extra items to your keto diet shopping list so you can whip up some awesome recipes at any time:
Almond flour
Cacao nibs, dark chocolate
Hot sauce, mayonnaise, mustard, pickles
Stevia, vanilla extract, vinegar
Once you get everything you need, check out our awesome recipes for meal planning inspiration!