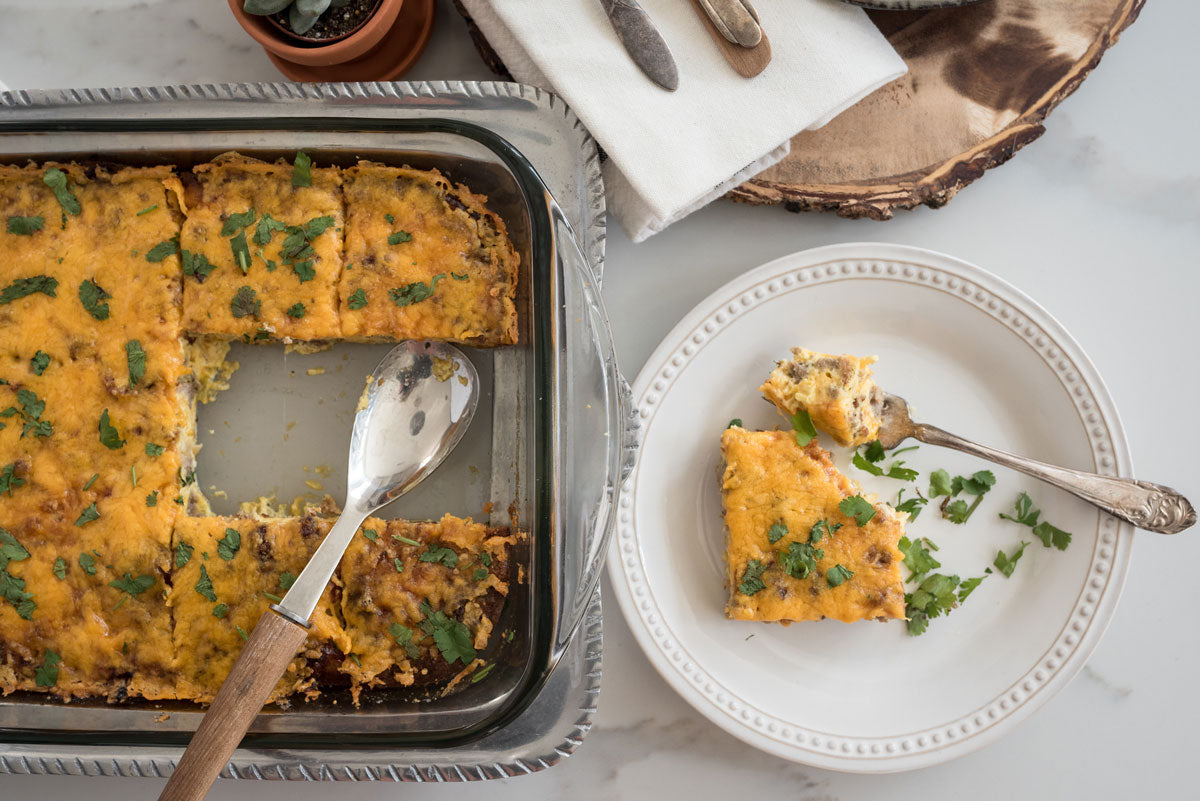 Recipe by Brandon McDearis
Jump-start your day with this delicious breakfast casserole full of bacon, sausage, and egg-cellent goodness! This casserole reheats amazingly well so you can enjoy it for days! P.S. It's also great for dinner!
INGREDIENTS:
8 slices bacon
1 onion, diced
2 tablespoons butter
1 pound ground breakfast sausage
8 eggs
1 cup heavy cream
1 teaspoon Kosher salt
1/2 teaspoon black pepper
1/2 teaspoon garlic powder
3 cups shredded sharp cheddar cheese, divided
PREPARATION:
Cook the bacon in a skillet at medium-low heat or in the oven at 350 degrees until crispy. Reserve the bacon fat and chop the bacon up finely once it has cooled. This step can be done ahead of time.
In a large skillet, melt the butter with reserved bacon fat and sauté the onion at medium-high heat for about 5 minutes until it begins to soften. Add the ground breakfast sausage to the skillet and stir continuously, cooking until browned.
Preheat oven to 375 degrees. Whisk together eggs, heavy cream, salt, pepper and garlic powder. Then whisk in the bacon, onion, and sausage with the egg and cream mixture. Finally, mix in 2 cups of the cheese.
Pour the egg mixture into a greased/sprayed 9x13 casserole pan. Bake for about 35 minutes (rotating the pan after 15-20 minutes). Sprinkle the last cup of cheese on top and continue baking for another 10-15 minutes until golden brown and cooked all the way through.
YIELD: 8 servings
PER SERVING: CALORIES 595 | FAT 51G | CARBOHYDRATES 16G | FIBER 0G | NET CARBOHYDRATES 16G | PROTEIN 30G