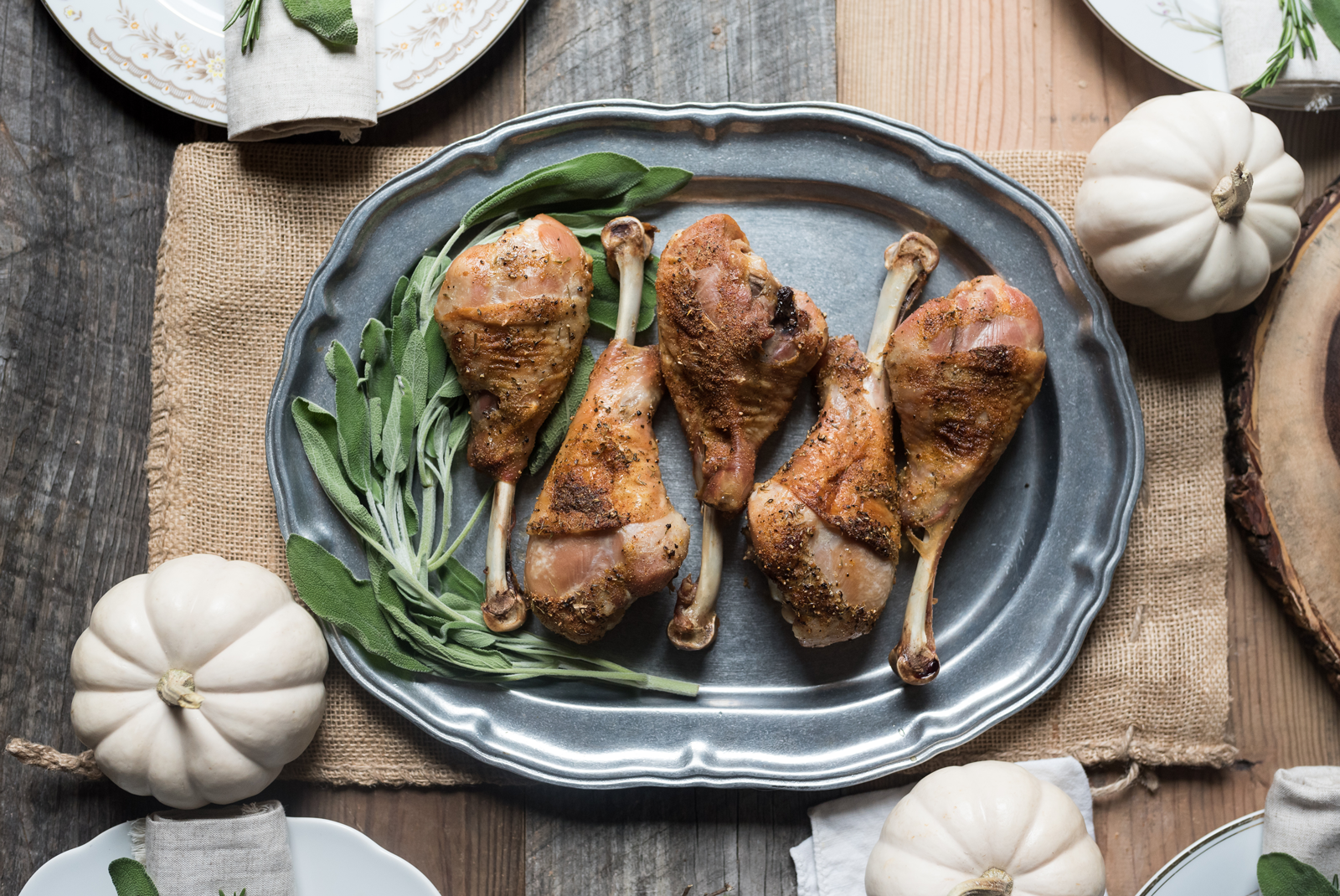 Recipe by Brandon McDearis
This is a Thanksgiving Day recipe that is already keto-friendly, but we're making it juicier and tastier. How? We're brining it. Then slathering it with butter. Then sprinkling on spices and herbs. It'll be the most tender and flavorful turkey you've ever had. Remember to save the pan drippings for our Homemade Keto gravy!
Note from the chef: Whether you are cooking turkey legs or a whole turkey, I strongly recommend brining it. In my opinion, it makes all the difference in the world in both flavor and texture.
INGREDIENTS:
4 large turkey legs
1 gallon water
1 cup + 1 tablespoon salt, divided
2 sticks butter, softened
1 teaspoon black pepper
1 teaspoon garlic powder
1 teaspoon onion powder
1 teaspoon dried thyme
1 teaspoon paprika
PREPARATION:
Whisk together the gallon of water with 1 cup of salt in a bucket and add the turkey legs. Let brine 4 to 6 hours or overnight. (Note: It is best to stir the turkey legs halfway through the brining process). Remove from brine, rinse turkey legs under cool water, and pat dry with paper towels.
Preheat oven to 400 degrees and lay the turkey legs evenly on a sheet pan. Cut each stick of butter into 4 pieces (8 pieces total). Each turkey leg gets two pieces of butter. Slip one of the pieces of butter under the skin of each turkey leg. Rub the second piece of butter over the outside of the turkey leg. Repeat the process for the other 3 turkey legs.
Combine the remaining tablespoon of salt with the rest of the spices and herbs and sprinkle liberally all over the turkey legs.
Place in the oven and roast for 30 minutes. Rotate the pan, lower the oven to 300 degrees, and continue to roast for another 45 minutes to 1 hour until the outside is crispy and an internal temperature of 170 degrees is reached. Depending on the size of the turkey legs and heat of the oven, more time may be required to cook the turkey legs all the way through.
Remove from the oven and allow the turkey legs to rest for a few minutes before serving.
YIELD: 8 servings
PER SERVING: CALORIES 961 | FAT 73G | CARBOHYDRATES 0G | FIBER 0G | NET CARBOHYDRATES 0G | PROTEIN 76G