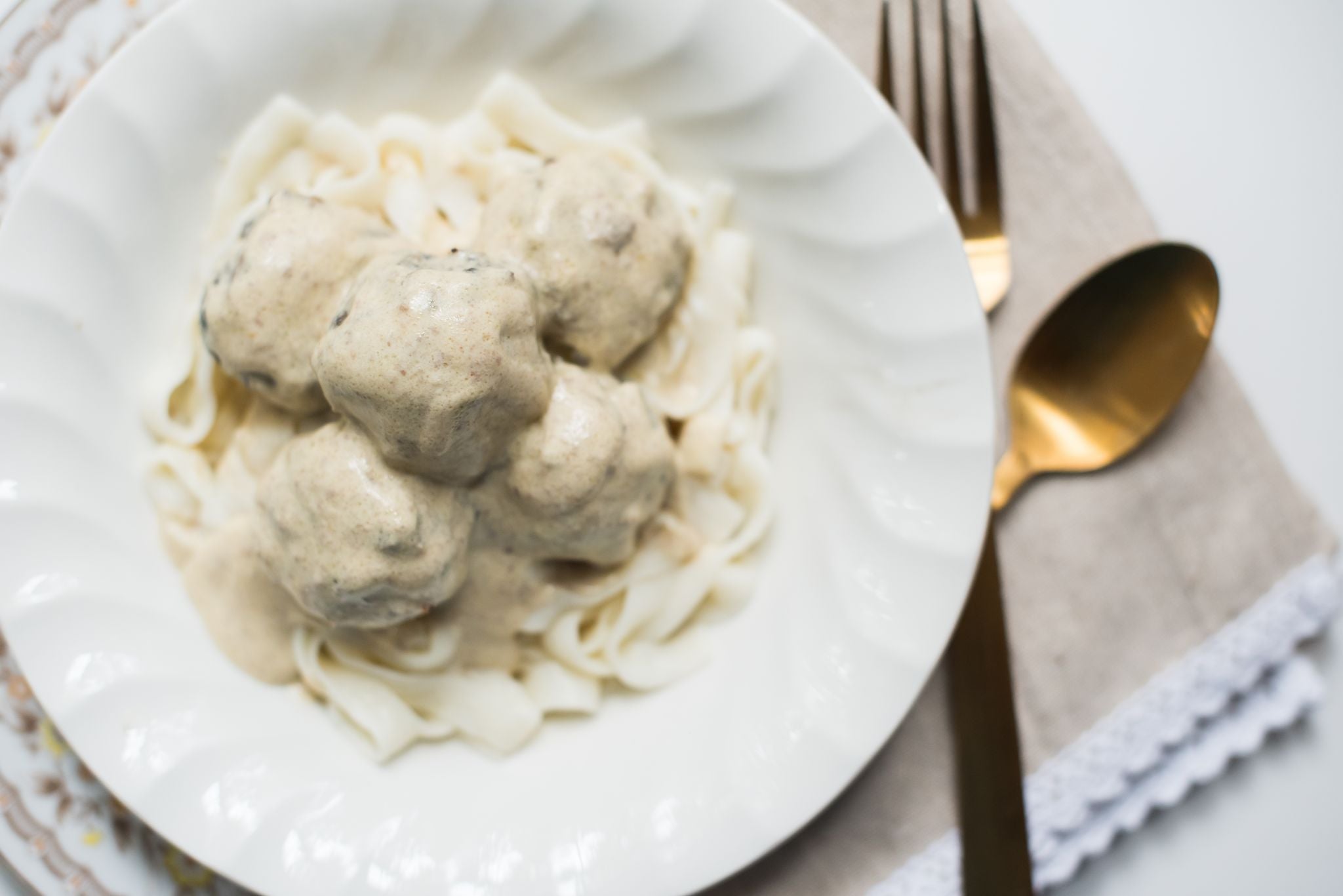 Recipe by Brandon McDearis
Tender meatballs smothered in a savory gravy, these Swedish meatballs represent comfort food at its best. They can be served as an appetizer or as a main dish. Everyone will be asking for seconds, whether or not they're keto!
INGREDIENTS:
1 tablespoon olive oil
1/4 cup onion, minced
1 pound lean ground beef
1 large egg
2 tablespoons heavy cream
1-2 teaspoons Kosher salt
1/4 teaspoon ground black pepper
1/2 teaspoon garlic powder
1/2 teaspoon onion powder
1/4 teaspoon allspice
1/4 teaspoon nutmeg
2 teaspoons Worcestershire sauce
2 teaspoons liquid Stevia (or other sweetener)
1/4 cup almond meal
<strong>Gravy</strong>
1 cup beef broth
1/2 cup heavy cream
1 tablespoon brandy (optional)
1 teaspoon Dijon
1 teaspoon Worcestershire
2 ounces cream cheese
Kosher salt and pepper to taste
Hot sauce to taste
PREPARATION:
Heat olive oil at medium-high heat in skillet and add onion; saute for about 5 minutes until soft.
Preheat oven to 400 degrees. Put onion and remaining meatball ingredients in bowl and mix together thoroughly. Using a tablespoon or small ice cream scoop, make uniform scoops and roll each in your hands to form meatballs (keeping your hands oiled will prevent meatballs from sticking). Place meatballs on lightly sprayed sheet pan (preferably lined with foil or parchment paper).
Put pan in oven and bake meatballs for 20-25 minutes (rotating pan halfway through) until they are golden brown and cooked all the way through. Reserve pan drippings for gravy.
For gravy, put pan drippings in saucepan or skillet with beef broth and heavy cream (and brandy if using). Bring to boil on stove and reduce heat to low. Let it reduce for about 5 minutes and add the Dijon mustard and Worcestershire sauce.
Whisk in cream cheese bit by bit until it melts into sauce. Season to taste and serve over meatballs.
YIELD: 4-5 servings
PER SERVING: CALORIES 547 | FAT 51G | CARBOHYDRATES 5G | FIBER 1G | NET CARBOHYDRATES 4G | PROTEIN 17G