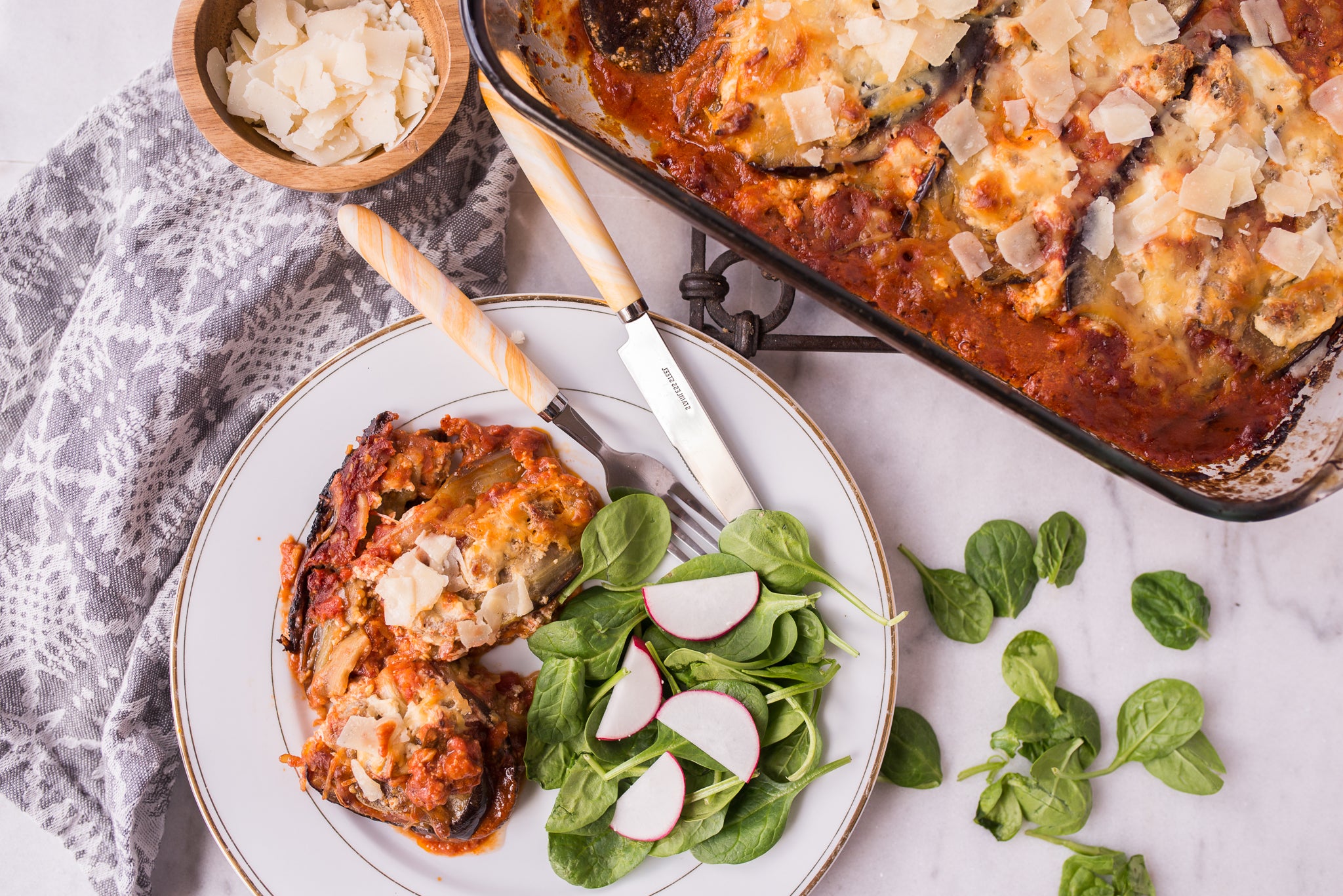 Recipe by Brandon McDearis
Our Eggplant Lasagna is a delicious low-carb marriage of two Italian comfort dishes: Eggplant Parmesan and Meat Lasagna. The roasted eggplant slices serve as the lasagna "noodles," nestled in between layers of marinara sauce, Italian sausage, and ricotta cheese. Even your non-keto friends will love this!
INGREDIENTS:
1 eggplant, sliced thinly into 8-12 slices
2 tablespoons Kosher salt
6 tablespoons olive oil
1 pound ground Italian sausage
2 cups ricotta cheese
2 cups marinara sauce
3 cups mozzarella cheese, shredded
2 cups Parmesan cheese, grated
PREPARATION:
Lay eggplant slices on a flat surface, such as a cutting board, and sprinkle with the 2 tablespoons of salt. Leave for 20-30 minutes to draw moisture out of the eggplant. Meanwhile, preheat oven to 400 degrees. Pat eggplant dry with paper towels.
Drizzle the eggplant with the olive oil and rub to coat both sides. Lay on an oiled/sprayed sheet pan and roast for about 10 minutes until soft. While eggplant is roasting, brown the Italian sausage in a skillet at medium heat until cooked through, about 10-12 minutes. Discard excess fat and/or juices. Reduce the oven to 375 degrees.
In a bowl, mix together the Italian sausage, and ricotta cheese. In another bowl, mix the mozzarella cheese and Parmesan cheese.
Spray a 9x13-inch baking dish with pan spray. Pour a half cup of marinara sauce into the bottom of the pan. Lay 2-3 eggplant slices evenly on the sauce (you can cut them in half if you have trouble fitting them evenly), spread evenly with one-fourth of the sausage and ricotta cheese mixture, then top with one-fourth of the mozzarella/Parmesan mixture. Repeat until the baking dish is full, ending with mozzarella/Parmesan at the top.
Cover the lasagna with foil and bake for 30-40 minutes. Remove the foil and bake another 10 minutes until the top starts to brown. Remove from the oven and let the lasagna sit for about 20 minutes before serving.
YIELD: 8 servings
PER SERVING: CALORIES 667 | FAT 51G | CARBOHYDRATES 14G | FIBER 3G | NET CARBOHYDRATES 11G | PROTEIN 38G