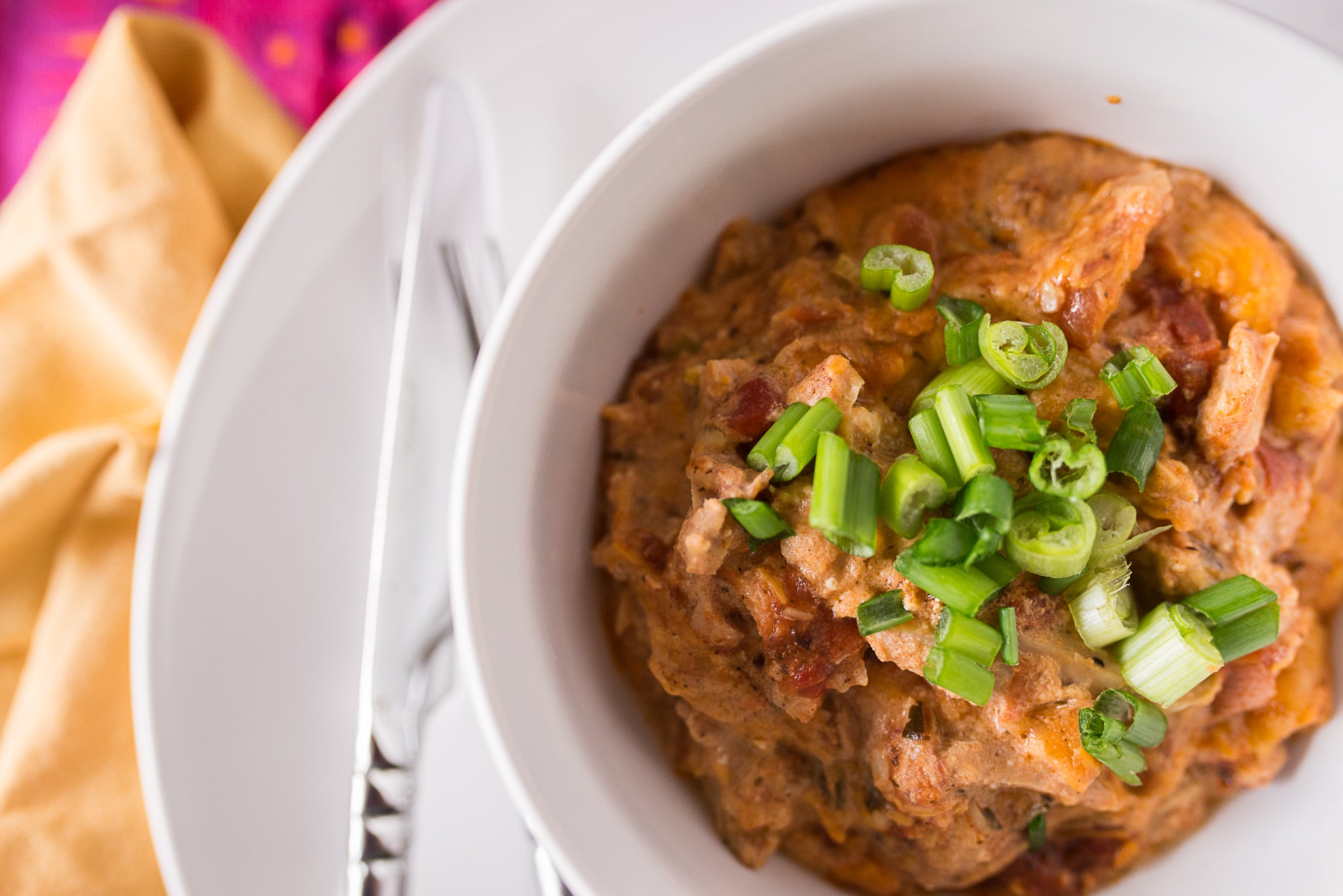 Recipe by Brandon McDearis
This keto-friendly chicken enchilada recipe is not only easy to prepare, but the results are delicious. The recipe uses very low-carb 8-inch tortillas, but they can be omitted completely to reduce the percentage of carbs. If you choose to omit the tortillas, simply prepare the mix as instructed, pour into your baking dish and bake it exactly the same way. The results are very similar. You just end up with more of a casserole than a whole enchilada.
*Nutrition information does not include the tortillas.
INGREDIENTS:
6 tablespoons olive oil, divided
4 chicken thighs, cooked and shredded
1 medium onion, diced
4 cloves garlic, minced
2 teaspoons cumin
1 teaspoon chili powder
2 teaspoons salt
1 teaspoon black pepper
dash of hot sauce
juice from one lime
5 scallions, sliced thinly
1 cup sour cream
½ cup cream cheese
32 ounces (4 cups) picante or ranchero sauce
4 cups shredded Monterey Jack cheese
8 low-carb tortillas
PREPARATION:
Pre-heat oven to 375 degrees. Toss the chicken with half of the olive oil and season liberally with salt and pepper. Lay on a baking sheet and roast in the oven for about 20-25 minutes or until an internal temperature of 165 degrees is reached. Allow chicken to cool enough to handle and then either pull apart to shred or chop with a knife.
Meanwhile, heat the rest of the olive oil in a skillet and sauté the onion and garlic at medium-high heat for about 5 minutes, until it becomes soft and translucent.
Add cumin, chili powder, salt and pepper and continue stirring for one more minute. Remove from heat and add the sautéed onion to the shredded/diced chicken in a large bowl. Add the hot sauce, lime juice, scallions, sour cream, cream cheese, two cups of the picante/ranchero sauce, and two cups of the Monterey Jack cheese. Mix together thoroughly.
Spray a shallow (13 x 9-inch) baking dish with pan spray. Spread one cup of picante/ranchero sauce on the bottom of the pan. Spoon the chicken mixture into the tortillas, roll and set in the pan seam side down. Top with the last cup of sauce and remaining cheese (use more cheese if desired).
Cover with foil and bake for 15-20 minutes. Remove foil and bake another 15-20 minutes until heated all the way through and golden brown on top.
YIELD: 8 Servings
PER SERVING: CALORIES 580 | FAT 47G | CARBOHYDRATES 12G | FIBER 4G | NET CARBOHYDRATES 8G | PROTEIN 26G