Keto Chicken Kale Caesar Salad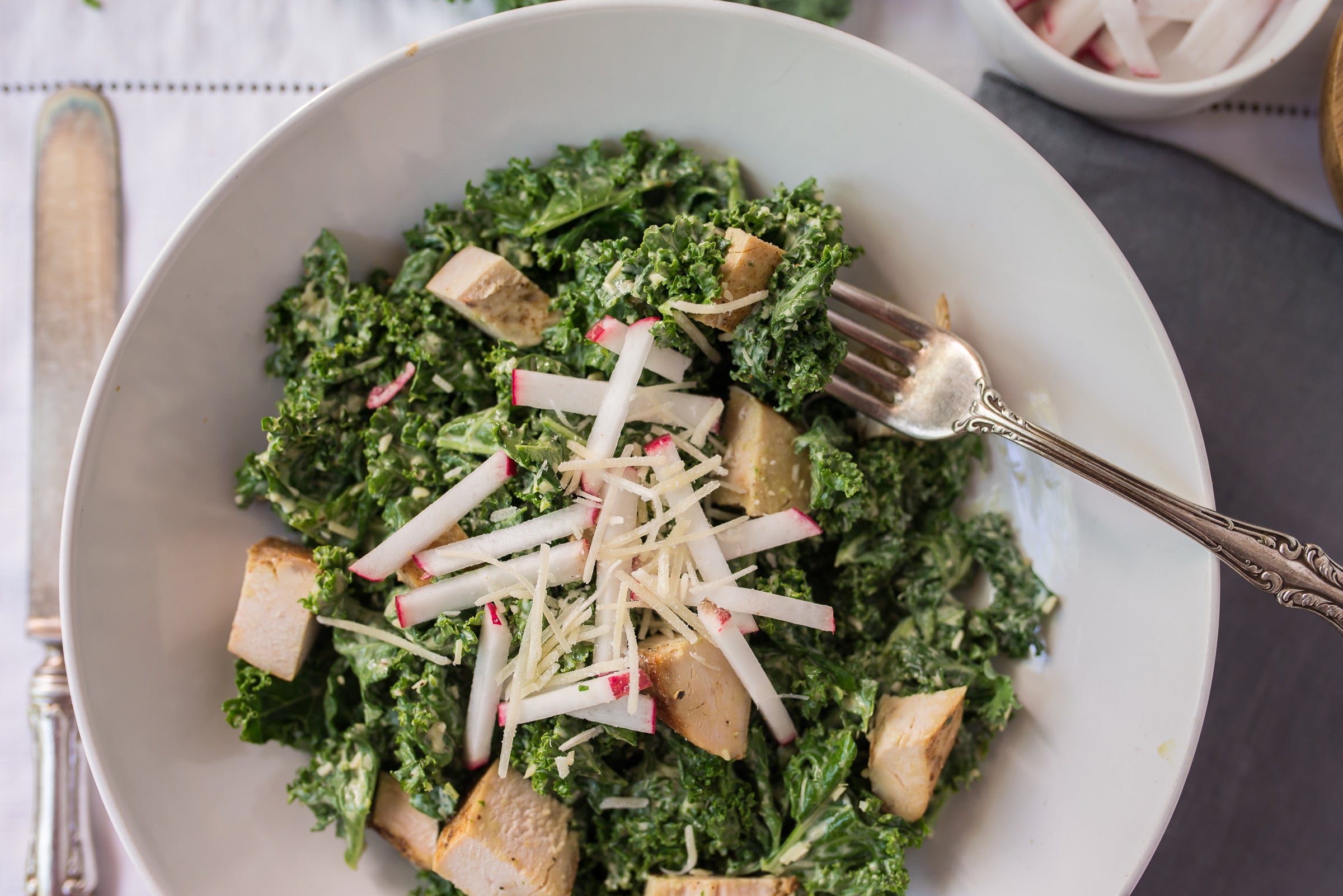 Recipe by Brandon McDearis
INGREDIENTS:
SALAD:
2 chicken breasts
¼ tablespoons olive oil
2 teaspoons Kosher salt
½ teaspoon black pepper
1 teaspoon garlic powder
1 bunch kale, washed chopped with ribs removed (about 4 cups)
CAESAR DRESSING:
1 egg yolk
2 anchovies
juice from 1 lemon
1 teaspoon apple cider vinegar
¼ cup grated Parmesan cheese
2 tablespoons chopped parsley
pinch salt and pepper
¼ cup olive oil
1-2 tablespoons water
PREPARATION:
Preheat oven to 375 degrees. Toss chicken in the olive oil, salt, pepper, and garlic powder. Bake on a sheet pan for about 30 minutes until an internal temperature of 165 degrees is reached. Let the chicken cool down, and dice it up or cut it into strips. While the chicken is cooling, prep the kale and put into a salad bowl.
In a food processor, place all of the ingredients except for the olive oil. Turn the processor on and pour the olive oil through the top in a steady stream. Once the dressing is emulsified, add 1 or 2 tablespoons of water if it is too thick and pulse the food processor a couple of times until desired consistency is reached.
Toss the dressing and the chicken with the kale. It can be served immediately or held in the refrigerator for a couple of hours.
YIELD: 8 Servings
PER SERVING: CALORIES 208 | FAT 16G | CARBOHYDRATES 8G | FIBER 1G | NET CARBOHYDRATES 7G | PROTEIN 8G