Pancetta and Goat Cheese Stuffed Flank Steak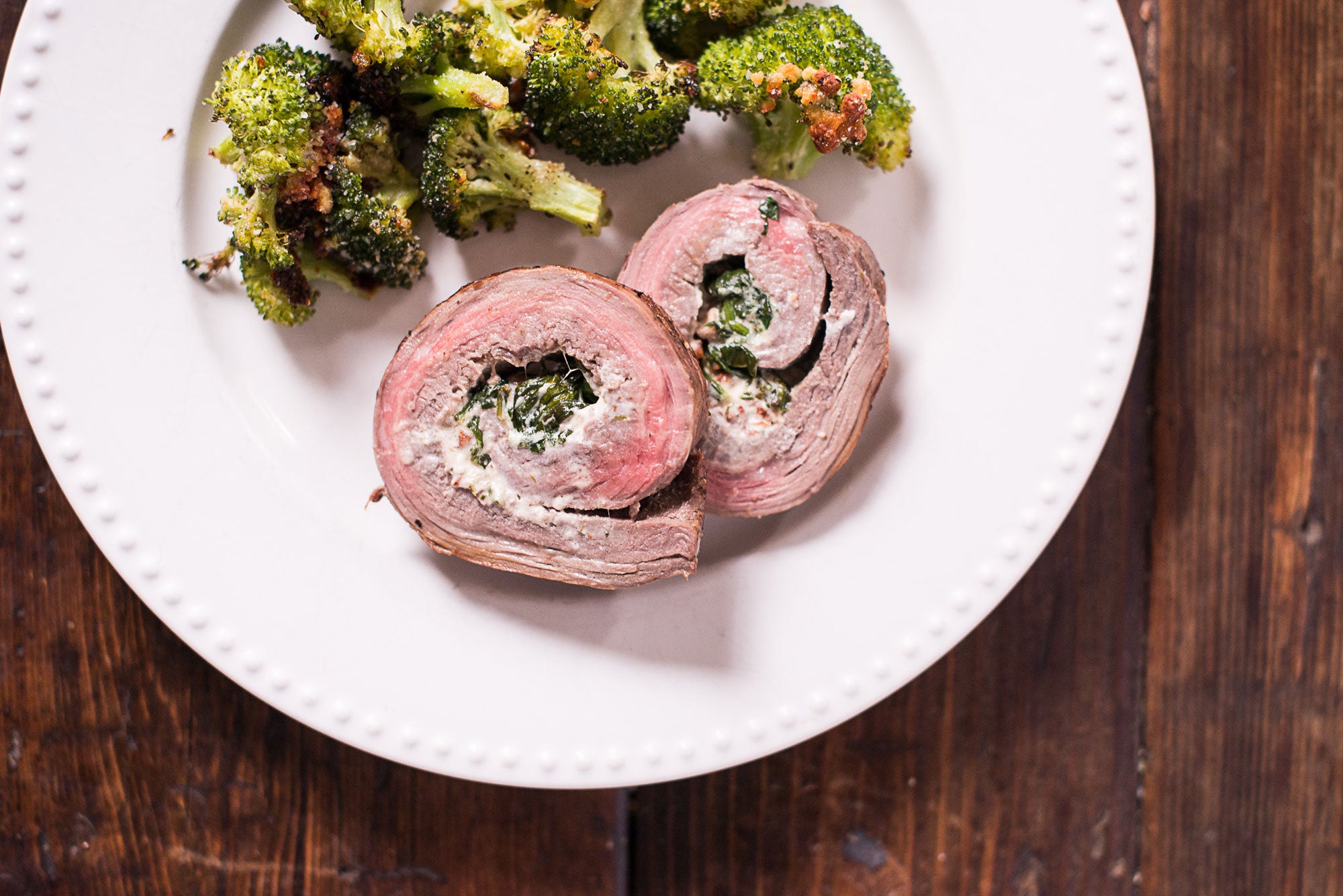 Impress everyone you know with this keto-friendly steak recipe. The amount of oohs and aahs you'll get far outweighs the level of effort this recipe requires.
INGREDIENTS:
Marinade
¼ cup red wine
¼ cup balsamic vinegar
2 tablespoons Dijon mustard
2 tablespoons soy sauce
1 cup extra-virgin olive oil
4 cloves garlic, peeled and sliced
1 teaspoon Kosher salt
freshly ground pepper
1 (2-3 pound) flank steak
Stuffing
½ cup pancetta, diced
8 ounces goat cheese
3 cups spinach
PREPARATION:
In a bowl, whisk together all ingredients of the marinade (red wine through ground pepper) or blend together in a blender until smooth. Put the marinade and the flank steak in a re-sealable zipper storage plastic bag or shallow baking dish and marinate for 4-24 hours.
To cook the pancetta, put into a sauté/fry pan at low heat. Let it cook slowly while rendering the fat. Stir often and cook until crispy. It may take 20-30 minutes. Strain the fat and reserve.
Heat the reserved pancetta fat in another sauté pan at medium heat and sauté the spinach until just wilted. Strain and squeeze out any excess moisture. Mix the spinach, pancetta and goat cheese together well.
Remove flank steak from marinade and pat dry. Discard marinade, and lay flank steak (perpendicular with the grain going side-to-side) on a flat surface such as a cutting board. Pound with a meat mallet or rolling pin until the steak is about 1/4-inch thick.
Spread stuffing over one side of the flank steak. Then roll the steak away from you, keeping it as compact as possible. Some stuffing may come out of the sides. You can try to push it back in or discard. Tie the rolled steak with butcher's twine at least 3-4 times. Season with salt and pepper all around. 
Preheat the oven to 400 degrees. Heat up 2 tablespoons of vegetable oil in a cast-iron skillet on medium-high heat or heat up your grill. Sear the steak on all sides until nicely browned, then transfer to oven. Finish in the oven until an internal temperature of 125 degrees is reached, about 15-25 minutes (possibly longer depending on the oven). Transfer the steak to a cutting board and allow to rest for about 15 minutes before snipping the butcher's twine off and slicing into 1/2-inch slices.
YIELD: 4 - 6 Servings
PER SERVING: CALORIES 646 | FAT 58G | CARBOHYDRATES 4G | FIBER .4G | NET CARBOHYDRATES 3.6G | PROTEIN 27G