Braised Short Ribs with Cream of Onion Soup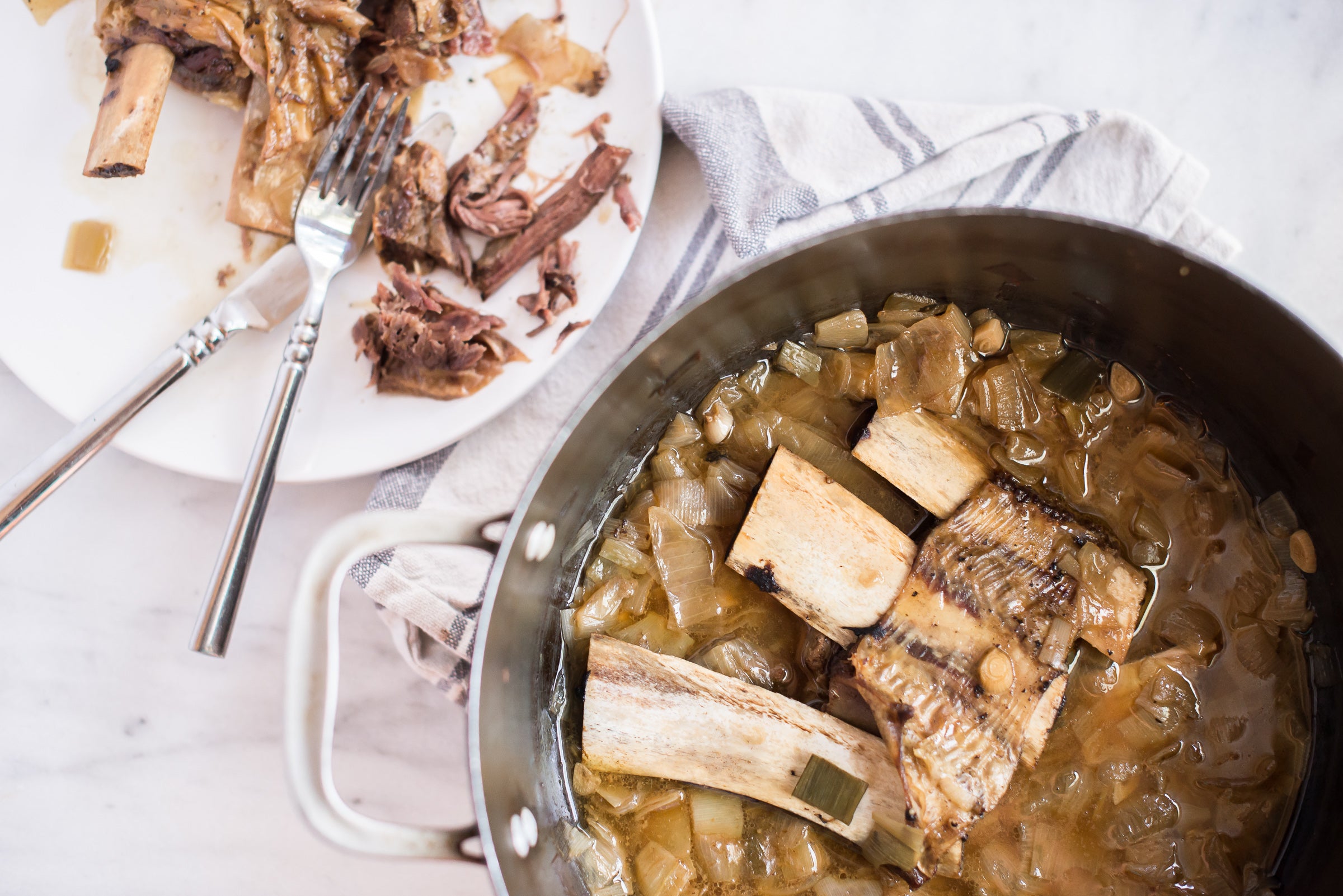 This recipe is very simple to prepare, but it will likely impress those that get to eat it. You should get satisfying results with the cook time, but it can be cooked lower and slower if you have the time.
If you decide to cook it in the 225-250 degree range, then you will need about 4-5 hours of cook time. You are looking for the short ribs to be very tender, but not completely falling apart. If they are at all difficult to slice into, then they need to go back in the oven for at least 30 minutes. If you do not have a Dutch oven, there is no need to fret. The first and last steps can be prepared in a pot, then transferred to a roasting pan or casserole dish covered with foil for cooking in the oven. Also, if you can find them, we prefer boneless short ribs to bone-in.
INGREDIENTS:
8 whole beef short ribs, about 2 pounds
4 tablespoons olive oil, divided
2 tablespoons butter
2 yellow onions, cut into 1-inch chunks
1 bunch leeks, rinsed and sliced, green ends discarded
4 cloves garlic, sliced
1 teaspoon dried thyme
½ cup red wine
1 tablespoon soy sauce
2 cups beef stock
2 cups heavy cream
3 tablespoons Parmesan cheese, grated (optional)
salt and pepper to taste
dash hot sauce
PREPARATION:
Preheat oven to 325 degrees. Season the short ribs all around liberally with salt and pepper. In a dutch oven, heat 2 tablespoons of the olive oil at medium-high heat. Once the oil is hot, sear the short ribs on both sides for about 2 minutes on each side. Transfer the short ribs to a plate.
Add the other 2 tablespoons of olive oil, along with the 2 tablespoons of butter to the pot. Toss in the onions, leeks and garlic and stir continuously for about 2 minutes until it just begins to soften. Add the red wine, soy sauce, and the beef stock, and return the short ribs to the pot; turn off the heat on the stove. Cover the pot and place in the oven for about 3 hours. Check the short ribs. They should be tender, almost falling apart, but not quite. More cooking time may be needed if they are still tough.
Return the short ribs back to the plate and put the pot back on the stove at medium-high heat. Add the heavy cream to the pot and bring to a boil; reduce the heat to low and simmer for about 5-10 minutes. Season well with salt and pepper and add the dash of hot sauce, along with the Parmesan cheese (if you decide to use it). Puree in a blender or with a hand-held immersion blender. Note: If the soup looks to thick, it can easily be thinned out with a little water or more beef stock. If it is too thin to your liking, simply put it back on the stove at medium-low heat and let it reduce for a few minutes. It can either be served as a soup or used as a gravy for the short ribs.
YIELD: 8 Servings
PER SERVING: CALORIES 815 | FAT 75G | CARBOHYDRATES 8G | FIBER .75G | NET CARBOHYDRATES 7.25G | PROTEIN 27G