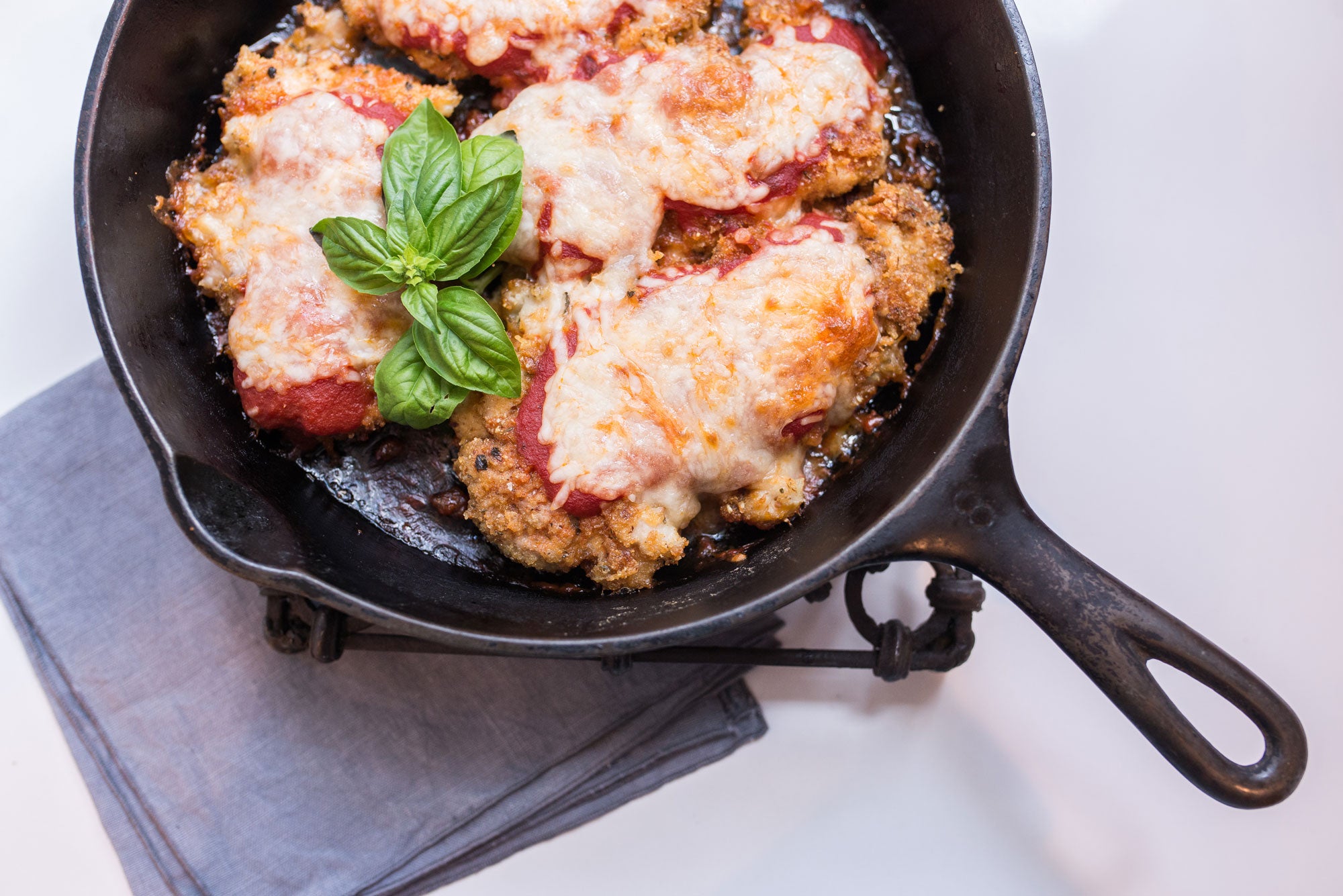 Chicken Parmesan is one of those comfort foods that are not exactly keto-friendly in their traditional form. However, with a little tweaking, we came up with a recipe that not only works, but is also quite delicious while staying close to the ideal 75/5/20 percent macro-range. Chicken thighs are substituted here for conventional chicken breasts; otherwise, the protein gets too out of control. The flaxseed meal, pork rinds, and Parmesan cheese make a really nice crust on the chicken when shallow-fried in oil.
INGREDIENTS:
4 chicken thighs
2 eggs
1 cup heavy cream
1/4 cup flaxseed meal
3 ounces pork rinds, crushed
1/2 cup Parmesan cheese, grated
1-2 teaspoons Kosher salt
1 teaspoon pepper
1 teaspoon Italian seasoning
1 teaspoon garlic powder
1/2 cup olive oil
1/2 cup low-carb tomato or marinara sauce
1/2 cup mozzarella cheese, shredded
PREPARATION:
Pound out the chicken thighs into cutlets. In a bowl, whisk together the eggs and heavy cream. In a separate bowl, mix together the flaxseed meal, crushed pork rinds, Parmesan cheese, salt, pepper, Italian seasoning, and garlic powder. Dip the chicken into the egg and cream mixture and then dip it into the breading mixture. Cover the chicken well in the breading and shake off any excess; put the chicken on a plate or piece of foil and repeat with the rest of the chicken.
Heat the oil in a pan at medium-high heat until hot, but not smoking, about 2-3 minutes. Fry the chicken on each side for 2-3 minutes until golden brown all the way around.
Preheat the oven to 400 degrees. Place the fried chicken on a sheet pan lined with foil or parchment paper. Top each piece with 2 tablespoons of the marinara sauce and 2 tablespoons of the mozzarella cheese (use more if desired). Place in the oven for 8-10 minutes until the cheese starts to get golden brown.
YIELD: 4 Servings
PER SERVING: CALORIES 946 | FAT 78G | CARBOHYDRATES 6G | FIBER 2G | NET CARBOHYDRATES 4G | PROTEIN 55G