Prime Rib with Horseradish Cream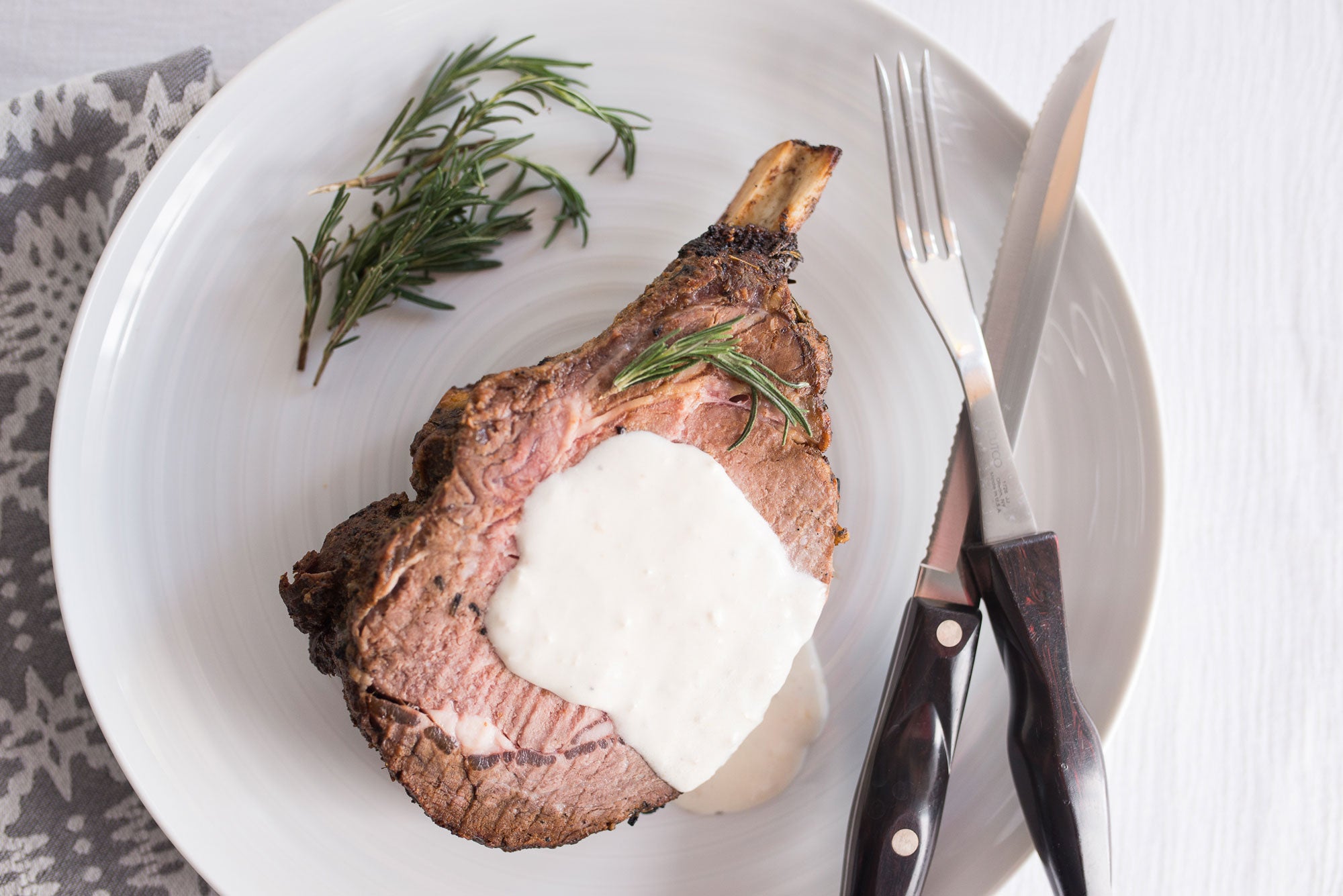 This recipe for prime rib is much easier to prepare than you might anticipate. It is always a crowd pleaser for dinner parties, but it can also be a weeknight dinner with the family that will yield lots of leftovers. After shrinkage during cooking, this recipe yields about 8-10 (½-1 pound) servings.
INGREDIENTS:
Prime Rib:
1 boneless prime rib roast (8-12 pounds)
¼ cup olive oil
½ cup Kosher salt
1 tablespoon ground pepper
2 tablespoons granulated garlic
1 tablespoon dried thyme
1 tablespoon dried rosemary
2 tablespoons paprika
Horseradish Cream Sauce:
1 cup sour cream
½ cup mayonnaise
¼ cup horseradish, drained
juice from half a lemon
dash of Tabasco
pinch of salt and pepper
PREPARATION:
Score fat side by slicing several times all the way down the prime rib; be careful not to slice all the way into the meat. Rub all over with olive oil and season generously all around. Don't be afraid to go heavy on the seasoning; the measurements are just a guideline. Ideally, season it the night before.
Remove from the refrigerator at least 1 hour before cooking and allow the prime rib to get to room temperature.
Set oven to 450-500 degrees. Roast for about 20 minutes with the fan on high (if that is an option for your oven). Then, set oven on broil setting and continue cooking for another 8 minutes. Lower temperature to 325 degrees. Continue to roast for another hour and 20 minutes.
Check temperature and remove from oven when you reach about 115-120 degrees. It may need significantly more time. A 15-pounder can take over 3 hours at 325 degrees. Let rest for 30 minutes to 1 hour before slicing.
For the Horseradish Cream, mix the sour cream, mayonnaise, horseradish, lemon juice, and Tabasco. Then season with salt and pepper to your taste.
YIELD: 8-10 Servings
PER SERVING: CALORIES 640 | FAT 56G | CARBOHYDRATES 2G | FIBER 0G | NET CARBOHYDRATES 2G | PROTEIN 33G