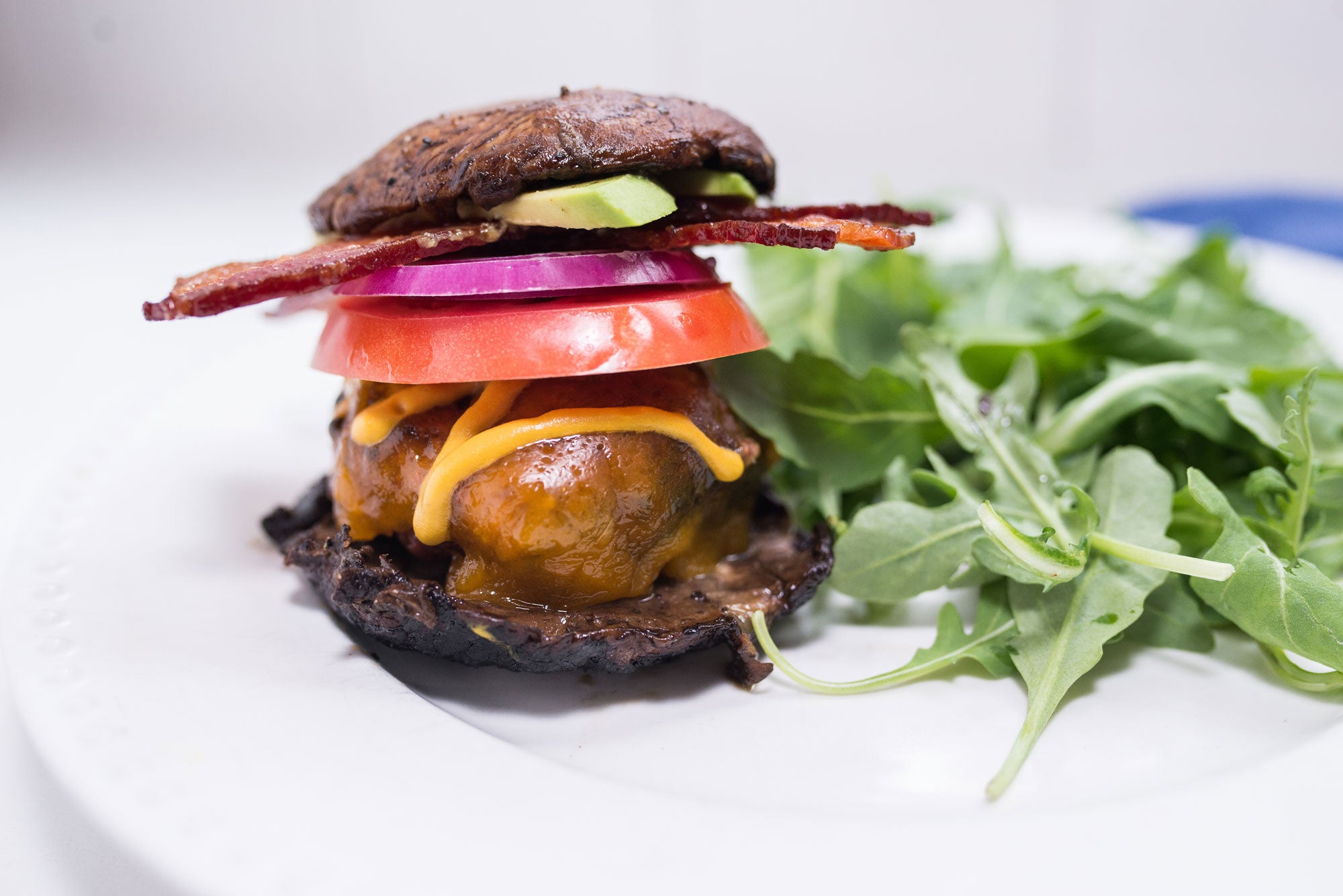 This keto recipe is simply a traditional hamburger using portobello mushrooms as the bun. It makes one serving, but you can multiply the ingredients for however many burgers you wish to prepare. We've listed a number of toppings here, but feel free to choose your own.
INGREDIENTS:
2 large portobello mushroom caps, stems and gills removed
2 tablespoons olive oil
1 tablespoon balsamic vinegar
2 teaspoons Kosher salt, divided
1 teaspoon black pepper, divided
2 slices bacon
6 ounces ground beef
1/2 teaspoon garlic powder
1/2 teaspoon onion powder
1/2 teaspoon Worcestershire sauce
2 slices cheddar cheese (or cheese of your preference)
1 slice tomato
1/4 cup mixed greens or arugula
1 tablespoon reduced-sugar ketchup
PREPARATION:
Remove the stem from the portobello mushrooms and scrape out the gills with a spoon. Put them in a bowl or shallow dish and add the olive oil, balsamic vinegar, and half of the salt and pepper; marinate for at least 30 minutes.
Cook the bacon in a skillet at medium-low heat until crispy, flipping over a couple of times to evenly cook each side. Set aside for later use as a topping.
Turn the grill on medium-high heat (about 200-300 degrees). In a bowl, mix together the ground beef, garlic powder, onion powder, Worcestershire sauce, and the rest of the salt and pepper. Form into a patty, ideally not quite as wide as the portobello "buns."
Put the portobello mushrooms and the burger on the grill (you may need to do this separately if you are preparing multiple servings). Cook the portobello mushrooms for 3-4 minutes on each side until they are soft and heated through. The burger will take 5-6 minutes on each side for medium-rare. Put the cheese on the burger for the last minute of cooking to melt.
Assemble your burger with the bacon and the rest of the toppings between the portobello mushrooms.
YIELD: 1 Serving
PER SERVING: CALORIES 1121 | FAT 101G | CARBOHYDRATES 7G | FIBER 1G | NET CARBOHYDRATES 6G | PROTEIN 46G